ABOUT THE BOOK:
For Madison Grayson, life is good. Newly licensed as a marriage and family therapist, she can't wait to start her practice. Despite the unfortunate shortage of eligible bachelors on the island–they're all too young, too old, or too weird–Maddie feels like she's finally found her sweet spot. Not even one panic attack in the last year. Not one.
And then Ricky O'Shea drops in. Literally. Floating down from the pure blue sky, the one man in the world she hoped never to see again–the one who'd been her archnemesis from kindergarten through her senior dance–parachutes into town, landing on Boon Dock, canopy draping behind him like a superhero. Ricky O'Shea. Now Pastor Rick, the new minister on Three Sisters Island.
Time to panic.
With wit and a bit of whimsy, bestselling author Suzanne Woods Fisher invites you back to Three Sisters Island where family, forgiveness, and a second chance at love await.
AMAZON /// BOOKBUB /// GOODREADS
MY THOUGHTS:
Oh la la, this book!
I expected to need a brush up on the first book in the Three Sisters Island series, On A Summer Tide, but I was wrong. It was like stepping right back into a loved little town, eh, island, that is, with old friends and new I fell in love with the people in this novel all over again.
The redemption in On A Coastal Breeze was so well done! I am in love with how Suzanne Woods Fisher wrote the sequel in her series. The sisters' point of view was done in a way that the story never became too coatic and did not switch from character to character too often.
Since I read the first book I have been looking forward to finding out more about the girls' growing up years and their take on their family as they had gone from young children to women dealing with grief.
Rick, wow, I wasn't sure what to expect, but wow! I love the whole former Marine now pastor thing, I loved it, surprisingly due to the fact he was a Marine! 😉 And the glimpses we got of him as Pastor Pick were so good! The author did a wonderful job of showing a sermon without it being boring, and the lessons, wow. heart eyes I just love him. I did not see the surprise we got from him though. Oof! Not expected at all.
Cooper, poor little Coop! He just breaks my heart with his anxiety, I felt so bad for him and his young fearful mind. The poor boy had been through so much, but the ending of this book tied up the little family's story in a sweet way.
The faith in God showed through in a wonderful way that was real and I could feel a connection with, and it was done without a bit of over the top preaching. The spiritual content was spectacular!
I enjoyed all of the points of view, and I almost forgot, I need to know what happens with Paul! His little shock at the end, why do that to me?
I cannot wait for the next book after that snippet cliffhanger of the next book. It will not come out soon enough for me. After all, I caught a hint of an idea that I hope turns out…
Just a note that due to certain content this book is for 16/18 up.
This book was provided courtesy of Baker Publishing (Revell), through Interviews & Reviews.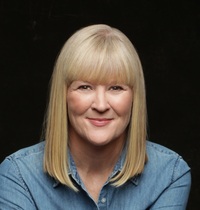 ABOUT THE AUTHOR:
Suzanne Woods Fisher is the bestselling, award winning author of fiction and non-fiction books about the Old Order Amish for Revell Books, host of the radio-show-turned-blog Amish Wisdom, a columnist for Christian Post and Cooking & Such magazine.
Her interest in the Amish began with her grandfather, who was raised Plain. A theme in her books (her life!) is that you don't have to "go Amish" to incorporate the principles of simple living.
Suzanne lives in California with her family and raises puppies for Guide Dogs for the Blind. To her way of thinking, you just can't life too seriously when a puppy is tearing through your house with someone's underwear in its mouth.
Suzanne can be found on-line at: www.suzannewoodsfisher.com